Live View in the Command Station Desktop Client
Last updated
Command Station Desktop Client
View Live video or Search video playback from a workstation once connected to a recorder. From the workstation, click the Command Station icon to launch into Video View. See additional details on viewing video in the other clients: Live or Search in the Mobile Apps and the Web Client.
Live View
Viewing Pane – Display Live screen view of the desired camera arrangement, including layout, view settings and stream settings.
Video View Tab – Customize the Viewing Pane.
Site-list Search – Search Companies, Recorders and Cameras with keyword searches.
Refresh button – Manually check web services for any recorder or permission changes.
Collapse view –

Minimize or expand left menu options.
Add Video View Tab –

Add another Video View Tab to open a new Viewing Pane.
Camera Tile – View live video from a specific camera in each individual tile.
Live – Transition from the Search screen to the Live screen.
Search – Transition from the Live screen to the Search screen.
Grid – Specify a screen grid to view live video from cameras in the Viewing Pane.
NOTE: Grid values for Intel-based hardware without a discrete GPU (Nvidia/AMD) range from 1-25 to align with the web client. Workstations with discrete GPU's will continue to have access to 1-81 grids.
View – Drop down live video options: 4:3, 16:9, Original and Stretch.
Stream – Specify the stream quality for cameras in the Viewing Pane.
PTZ – Enable and disable PTZ control in live view.
Sequence – Enable and disable auto live sequence and modify sequence time interval.
Audio – Mute and adjust volume level for audio in live.
2-Way Audio – Enable 2-Way Audio for cameras with speaker and microphone
User drop down menu –
Select Preferences, Switch User, or Log Out.
Options –

Open the Command Station options window.
Feedback –

Submit Command Station feedback online.
Full Screen –
Hide menus to fill entire screen with Camera Tiles, but show the left side site list and top menu by leading the cursor over the center arrow drop downs; full screen saves states when you exit.
Recorders – View the list of available recorders, including Web Services Devices and Local Devices.
NOTE: Right-click on a recorder name or camera name in the device list to manage devices.
Layouts – Arrange user screen and camera layouts; can be saved for future use.
PTZ Control – Control PTZ, home position, zoom in/out, auto focus, menu, and set presets.
Maps – Create new maps or access previously created maps.
Metrics - Display the CPU, GPU, memory, and network usage.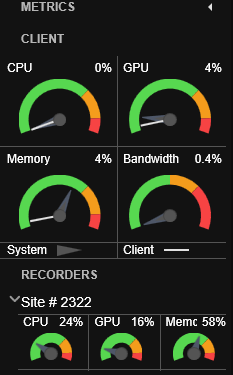 Related Links