Using Local Linux OS Recovery Partition
Last updated
Overview
The onboard Linux OS Recovery option provides the ability to reset recorder settings.
Defaulting a unit can be useful when troubleshooting to help determine if an error is software or hardware related.
It is also beneficial if a reset is needed when deploying a loaner unit to a customer.
NOTE: Video data is retained using this method. Settings and OS are reset to default.
How to Run the Internal Recovery on an Apex Server Software Recorder
Ensure a keyboard and mouse are plugged into the recorder as they will be needed for initiating the recovery as well as going through the menus.
Reboot the recorder and begin hitting the ESC key on the keyboard when a countdown is present in the top left of the screen
Depending on the hardware, it may bring up a boot menu if hit too early. You want to boot from the internal OS drive, then hit ESC when the countdown appears.
This should bring us to the GRUB Boot menu with a couple of options:

Recorder OS will boot like normal.
Recorder OS Recovery will launch the desired recovery.
​​
Once in Recovery, there will be an option to continue or launch support tools
Advanced Troubleshooting: Launching into support tools may be useful, as you can determine if other factors like networking issues are also present here, or if the configuration in the normal OS is misconfigured.
Clicking Continue will prompt you to enter the Serial Number of the recorder
NOTE: The Serial Number is located on a sticker on the side of the Recorder.
Click Continue to agree that this will reset the software
The internal recovery only resets the OS and any server configuration done. Existing footage will be maintained and the cameras should come back as an orphaned camera.
If a full factory default is needed where configuration and footage need to be reset, then use the re-image USB and perform the Factory Default option.
Example of Recovery in Progress: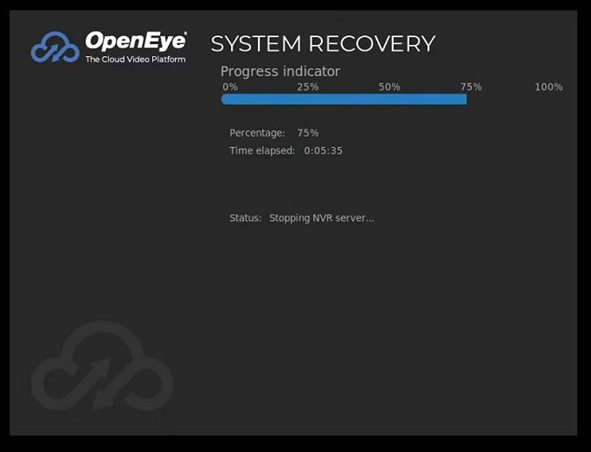 Press the Finish button in the bottom right to reboot the recorder
Once the recovery has completed, it will land at the final screen.
The recorder will then boot to a login screen.
Log in with the default username: admin and password: 1234, and it will take you through the First Time Wizard just like the first time it was powered on.
If you run into any errors while running the recovery, it may indicate that a hard drive or other hardware may not be functioning correctly.
Related Links