Subscription Management Audit Log
Last updated
The Audit Log page displays a list of events that pertain to an account as well as an overview of details and a brief description of the event.
Audit Log
The Audit Log is available to Channel Partners and can be found under Management > Audit Log.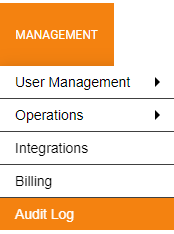 To view the Audit Log, the Channel Partner must have Subscriptions enabled and is in a User Group in which View Subscription Audit Log Permission is enabled.
Once enabled, the Channel Partner will be able to see the Account, User, Date / Time, Category, Events, Source, and Bucket related to changes made to the account.
The Audit Log Overview displays additional information about the Account, Date / Time, User, Category, Events, and Source.
The Audit Log Details displays the changes made within an account, including recorder name, when an event in the log is selected.