OE-C1012D2-S Hardware Manual - Features and Contents
Last updated
OE-C1012D2-S Hardware Manual - Features and Contents
Product Description
The OE-C1012D2-S is a compact outdoor IP mini dome camera equipped with person, vehicle, and line crossing detection analytics. The 2.8mm fixed lens, true WDR, and true day/night functionality combine with real-time event notifications to provide actionable, high-definition video. With a vandal resistant IK10 housing the OE-1012D2-S is suitable for installation on low ceilings and in public spaces.
Adaptive IR technology ensures the camera can capture images in low light without overexposing subjects of interest and losing important detail. The OE-C1012D2-S is compatible with a broad range of available mounting accessories to fit any application, stands up to the elements with an IP67 rated housing and operates down to -22°F for even the most extreme cold weather installations.
Smart Compression reduces network throughput and storage requirements without impacting video quality. Additional connection for audio in/out and sensor I/O connections make this camera an excellent choice for pairing with OpenEye Web Services for remote monitoring, or receive real-time alerts, on person or vehicle detection, sent directly to a mobile device or PC.
Camera Dimensions
Connections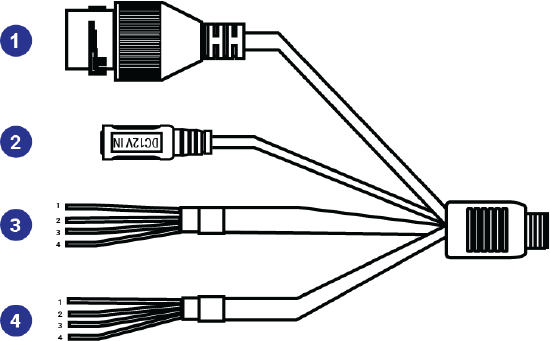 1
RJ45
For connector and PoE connections
2
Power (12vDC)*
Power connection
3
Audio I/O
Gray
Audio Out
Purple
Ground
Green
Audio In
Brown
Ground
4
Alarm I/O
Yellow
Alarm Out +
White
Alarm Out -
Orange
Alarm Input
Blue
Ground
5
Reset

To restore the camera to factory defaults:

Disconnect power for 30 seconds.
Reconnect power and wait 30 seconds.
Press the reset button for 20 seconds.

6
MicroSD Card Slot

Supports up to 512GB microSD card for Edge storage.

Do not add or remove the microSD card when the camera is powered on.

*12vDC power input port should be plugged when not in use.
Power Connection
For an adequate power connection, use a 12vDC adaptor. Alternatively, you can power the camera by PoE if a Power Sourcing Equipment (PSE) switch is available. Ensure that the camera's power cable is correctly and firmly connected.
NOTE: OpenEye recommends against using more than one power source at a time. Do not use a PoE power source when providing the camera with 12vDC power.
If using Power over Ethernet (PoE), make sure Power Sourcing Equipment (PSE) is in use in the network.
Features
Person, Vehicle, Line Crossing Detection Analytics
2.8mm Fixed Lens
2MP @ 30 FPS
Corridor Mode
Adaptive IR
True WDR
Discreet Size
IK10 Impact Protection Rating
IP67 Ingress Protection Rating
NDAA Compliant
Smart Compression
Compatible w/ 10-Series Accessories
Box Contents
OpenEye C1012D2-S cameras come with self-tapping screws and plastic anchors, mounting template, a torx tool, and a waterproof cable connector. Identify the following components to make sure everything has been properly included with your new recorder. If any of the following items are missing, contact the dealer to arrange a replacement.
| | |
| --- | --- |
| OE-C1012D2 -S Dome Camera | Self-Tapping Screws and Plastic Anchors x3 |
| Mounting Template | Torx Tool |
| Waterproof Cable Connector | |