API Access Integration Instructions
Last updated
The OWS API Access feature allows users to easily pull data from OWS including user data and POS data or tickets. Once enabled, administrators can create an integration for API Access in OWS. This feature is currently only available to specific customers on request.
Add Integration
In OWS, click on Management > Integrations.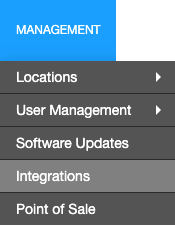 Select Integrations.
Click the Add New Integration button.
Select an API Integration and click Next.
NOTE: Integration Management is not available for all End User account types.
Authentication
Creating an API Key
Select the Management tab.
Choose Integrations from the drop-down menu.
Choose an API Integration.
Select Add Key in API Access Keys.
Copy the API Secret Key from the dialog box.
NOTE: If the secret key is lost, a new API access token must be created.
Click Add to close the dialog box.
Related Links