The audit log page displays a list of events that pertain to an account as well as an overview of details and a brief description of the event.
Audit Log
The Audit Log is available to Channel Partners and can be found under Management > Audit Log.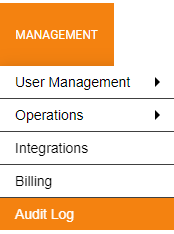 To view the Audit Log, the Channel Partner must have Subscriptions enabled and is in a User Group in which View Subscription Audit Log Permission is enabled.
Once enabled, the Channel Partner will be able to see the Account, User, Date/Time, Category, Events, Source, and Bucket related to changes made to the account.
Additional information is displayed in the Audit Log Overview and in the Audit Log Details when an event in the log is selected.